Recently it is proven that the blockchain is one of the powerful technology that enables such cryptocurrency like Bitcoin, Litecoin, Dogecoin, and other various virtual currencies. The blockchain basically is a database about every Bitcoin transaction with every detail. To prevent from tampering with each and every transaction, the database is cryptographically secured and because of Cryptography users can edit only one part with the private key which they own. With the help of
Blockchain Development Company
, a bank can save billions in cash by dramatically reducing processing costs. By implementing blockchain in the bank industry would be a step to making banks increasingly profitable and valuable.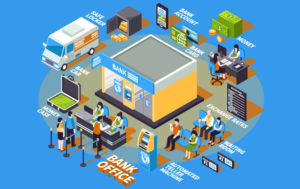 Here, are some of the importance of using blockchain in the financial and banking industry.
1. Fraud Reduction
A report found that blockchain can reduce the cost of intermediaries stock exchanges and money transfer services such as by 45%. Also, the most banking system in the world is using a centralized database where once hackers attack the one system they can easily get full access.
2. KYC- Know Your Customer
Blockchain development company would allow an organization to access the verification details of users by another firm, thus avoid repetition of the
KYC Process
. The reduction in central costs for compliance departments would be vital.
3. Smart Contracts
Blockchains facilitate smart contracts as they provide storage of all kind of data digitally including computer code, contracts could be generated and financial transactions conducted when this computer code be two or more parties is programmed.
4. Clearing and Settlement
Let's take an example for this, With the help of Blockchain Development Company, the Australian Securities Exchange aims to transfer a lot of its post-trade clearing and settlement on to blockchain system.
5. Payments
Blockchain disruption could be transformative in the payment process. As it allows banks higher security to process payment between the organization and the clients and also between banks too. It is the ultimate solution to get rid of all the intermediaries in the payment process system.
Upgrade your trading platform with the blockchain-based technology specially developed by
Minddeft - Blockchain Service Provider
for your business. Get the best blockchain solution to cut cost and improve efficiencies with us, for more visit us on call us on
+1 4159685466